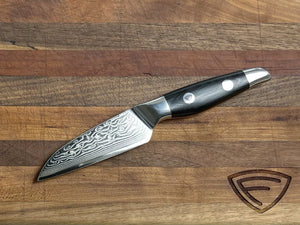 FF Kitchen: Utili-toku
Sale price Price $69.99 Regular price $69.99
Every kitchen and cook needs an effective small utility/paring knife. The diminutive Utili-toku is the most nimble and versatile knife in your drawer. Perfect for tasks that require the utmost precision and the quick "just need a knife" cuts. You need to peel something? Core tomatoes or strawberries? Cut up fruit for your baby? This is the knife for you.  
The Utili-toku features 3.5" of stunning premium VG10 steel cored Damascus blade. Beautiful while providing great edge retention, corrosion resistance, and ease of maintenance. The handle shape and bolster organically place your hand into a safe, efficient cutting position to give you maximum control. 
Includes custom knife koozie to protect your knife in your drawer and on the go. Everyone travels with their own kitchen knives... right?
Specifications:
OAL: 7.5""

Blade Length: 3.5"

Cutting Edge: 3.5"

Blade Height: 1"

Steel: VG10 Cored Damascus

Handle Length: 4"

Handle Construction: Full Tang

Material: Polished Black G10

Weight: 3.7 oz